106 Piece Dual Wall Heat Shrink Tube Assortment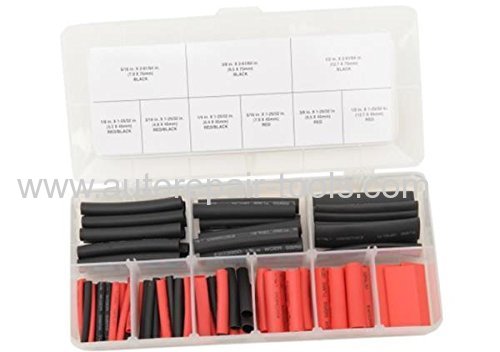 Description:
1. Protection and insulation of components and wires.
2. Adhesive Lined inner wall seals and protects against moisture ingress preventing corrosion.
3. Tubes shrink to fit over cable splices and can be used for wire harnessing, covering, marking and bundling of wires
4. Use for auto, marine , plane , home, industrial, computer etc.
Heat Shrink Tube Feature:
1. Material: Polyolefin
2. Shrink Ratio: 3:1
3. Waterproof
4. Operating Temperature: -45°C~ +125°C
5. Shrink Temperature: Start at 70°C ; Shrunk totally at 120°C
6. Maximum Electrical Rating: 600 Volts
Content:
Φ7.9*75mm 10 pcs
Φ9.5* 75mm 8 pcs
Φ12.7*75mm 6 pcs
Φ12.7*45mm 6 pcs
Φ9.5*45mm 8 pcs
Φ7.9*45mm 10 pcs
Φ6.4*45mm 6 pcs
Φ6.4*45mm 6 pcs
Φ4.8*45mm 8 pcs
Φ4.8*45mm 8 pcs
Φ3.2*45mm 15 pcs
Φ3.2*45mm 15 pcs